iPhone App for EtherRain
SprinklerAce iPhone Application for EtherRain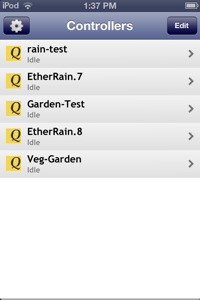 SprinklerAce™ is a third party iPhone app designed to provide local zone access for valve testing and spot watering. SprinklerAce is published by FeedFriendly LLC and is available on the iTunes App Store. It's best to use SprinklerAce after your controllers have been configured (use EtherRain Admin to configure). SprinklerAce provides convenient on-the-spot zone control for your EtherRain controlled sprinkler system.
SprinklerAce implements the EtherRain discovery service and will automatically discover all EtherRain controllers on your network. You can select a controller and turn any zone on or off immediately while standing at the irrigation scene provided that your iPhone is within range of your WiFi signal.
SprinklerAce can be used for spot watering, for example if a garden area needs more water upon visual inspection, and is extremely helpful for use in valve and zone testing.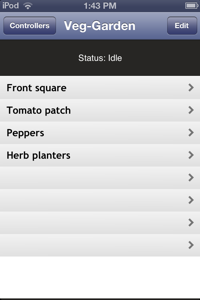 It's best to use SprinklerAce after your controllers have all been named and configured. Use EtherRain Admin for configuration. If you have multiple EtherRain controllers on the same network each EtherRain must be given a unique name. Once you have decided the names of your controllers you can set up the controller within Sprinkler ace by naming the zones and changing the password if you decide upon a password other than the default.
It's possible to delete a controller from SprinklerAce. If you do then all of your zone names will be deleted. If you change the name of your EtherRain controller then you'll need to make a new record within SprinklerAce, though the controller will still be auto-discovered.
If your EtherRain controllers are not displayed on the main screen, make sure you are in range of your WiFi network and also make sure that the "autodiscovery" feature is set to "on" - this feature is "on" by default upon installation.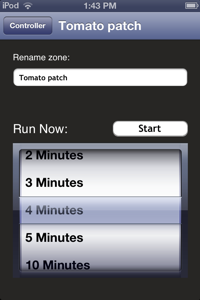 To turn a zone on, first access the controller by tapping the controller name on the main screen. Then tap the zone name.
Select a zone run time by tapping one of the selection choices. Then tap the start button. Once the controller is running, the "start" button changes to a "stop" button and you can stop the zone by tapping on the "stop" button.
SprinklerAce is a third party application and it is available on the iTunes App Store. For more information please visit the SprinklerAce home page.
To view the EtherRain frequently asked questions (FAQ) page, click here.

For information on schedulers and scheduling software compatible with EtherRain, click here.