Android App for EtherRain - ZonePopper
ZonePopper Android App for EtherRain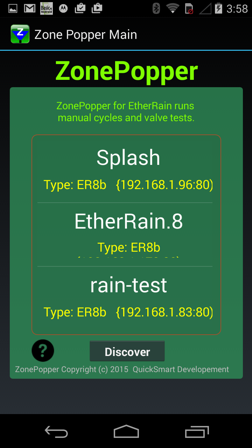 ZonePopper™ is an Android app designed to run manual cycles and valve test cycles immediately from an Android device. Your Android device must be within Wifi range of the Wifi network that is connected to the LAN that hosts your EtherRain controllers.
ZonePopper implements the EtherRain discovery service and will automatically discover all EtherRain controllers on your network. ZonePopper provides valve testing cycles or complete manual cycles with only a few taps on your Android screen.
Tap the question mark icon to view the ZonePopper Help screen for more information.
Select the EtherRain controller that you want to use by tapping on the list item on the main screen.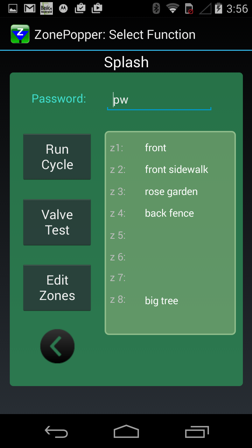 Functions available in ZonePopper include:
1. Run Manual Cycles
2. Run Valve Test Cycles
3. Save Controller Information

It's best to use ZonePopper after your controllers have all been named and configured. Use EtherRain Admin for configuration. If you have multiple EtherRain controllers on the same network each EtherRain should be given a unique name. Once you have decided the names of your controllers you can set up the controller within ZonePopper by naming the zones and setting the password.
If your EtherRain controllers are not displayed on the main screen, make sure you are in range of your WiFi network.
If you want to save the controller's password, tap the "Edit Zones" button. Enter the password and the the zone names in the fields provided. Then tap "Save."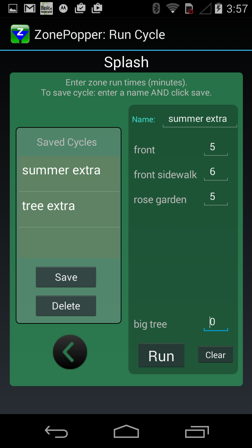 Tap the "Run Cycle" button to run a complete cycle. Enter the run time in minutes for each zone. If you want to save the cycle information enter a cycle name and tap "Save." Tap the run button to run the cycle.
You can save up to 20 cycles allowing you to easily run manual cycles with only a few screen taps.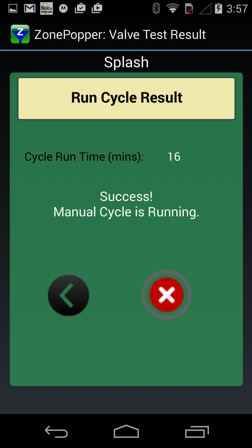 Once the cycle is running you can exit the app - EtherRain will manage the cycle. If you want to stop the cycle tap the red stop button.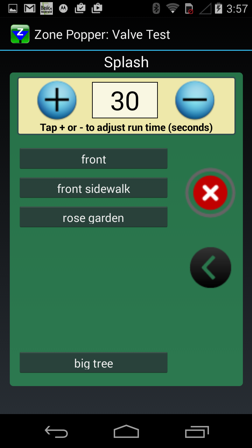 Tap the "Valve Test" button on the function select screen to run valve tests. Valve test cycles are single zone cycles that have an adjustable run time measured in seconds (max of 150 seconds).
Adjust the maximum valve test time by tapping the plus or minus buttons. To run a valve test tap the button the corresponds to the zone that you want to test. If you are within WiFi range your zone will start within a few seconds.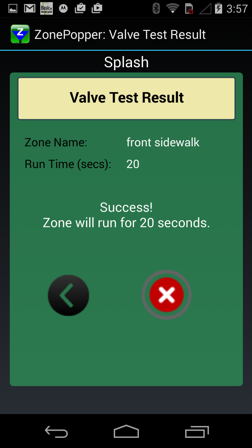 Tap the "back" button to run another valve test cycle or tap the red stop button to stop the current cycle.
ZonePopper is available to EtherRain customers by email request for a limited time after which it will be available on Google Play.

To view the EtherRain frequently asked questions (FAQ) page, click here.

For information on schedulers and scheduling software compatible with EtherRain, click here.